Dumbell Set with Rack (3-35 LBS SET) (SOLD)
Auction ID 10952
Started
11/20/2020 2:30 PM EST
Ended
12/4/2020 1:00 PM EST
Minimum Bid Increment
$1.00
Equipment Location
Dolet Hills Mine Office - Pelican , LA
Details
Condition Code
Excellent used condition
The Lot includes ten (10) pairs of dumbells ranging from 3-35 lbs and the rack they're sitting on. 
The equipment is being sold AS IS WHERE IS. The BUYER will be required to provide everything neccessary to safely remove the equipment from its existing location. The equipment is located on the ground floor of the building with exits nearby leading to a parking lot.
The SITE will not be required to provide tools, equipment, or assistance to load the items in this lot. The SITE cannot disassemble and/or palletize the equipment to make ready for the buyer's carrier.
Known Concerns: None
  
(Listed concerns are what have been observed by the business unit selling the item and have not been validated by a technician.  Areas not listed as known concerns or none do not imply any warranty as to life or condition and only imply that a concern was not noticed by the previous user.  This item is being sold AS IS WHERE IS in its existing condition.) 
NOTE: Our facilities are currently not open to visitors to help protect the health of our employees during the coronavirus outbreak. Inspections of auction items may not be available at this time, since AEP facilities are currently not open to visitors. Please note that if you are the winning bidder of an auction, pickup may be delayed. We will work with you to arrange a time when you can pick your item(s) up once these restrictions are no longer in place.
Product Photos
View new and used equipment that American Electric Power no longer needs.
Place a bid or make an offer on available equipment.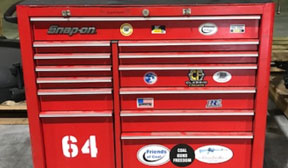 Create your user account and sign up to participate.