1985 Sherman Reilly TR59 Reel Tensioner Trailer (940248) (SOLD)
Auction ID 10983
Started
12/7/2020 4:37 PM EST
Ended
12/28/2020 1:00 PM EST
Minimum Bid Increment
$1.00
Equipment Location
San Benito SC - San Benito , TX
Details
Serial Number
123WM1317F1T06478
Condition Code
Poor Used Condition
Machine Hour Reading: Unknown
Capacity: Unknown
Motor Size:  18 HP Kohler Gasoline Engine
Brake Type: Electric
Hitch Type: Pintle
Title: Yes
Unit last used: Unknown
Unit in working condition: No
Lighting in working condition: No
Hydraulics in working condition: No
Brakes in working condition: No
Known Concerns:  The trailer is not roadworthy. Brakes are not in working condition. Engine needs repair. Battery is bad.
Listed concerns are what have been observed by the business unit selling the item and have not been validated by a technician.  Areas not listed as known concerns or none do not imply any warranty as to life or condition and only imply that a concern was not noticed by the previous user.  This item is being sold AS IS WHERE IS in its existing condition. 
Note: Due to Covid-19, restrictions are in place. Inspections of auction items may not be available at this time. Please note that if you are the winning bidder of an auction pickup may be delayed. We will work with you to arrange a time when you can safely pickup your item.
Product Photos
View new and used equipment that American Electric Power no longer needs.
Place a bid or make an offer on available equipment.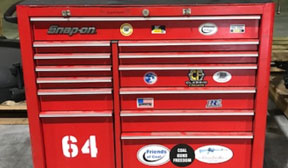 Create your user account and sign up to participate.