One (1) dry type transformer (SOLD)
Auction ID 2720
Started
4/22/2013 9:15 AM EST
Ended
5/6/2013 1:00 PM EST
Minimum Bid Increment
$1.00
Equipment Location
CARDINAL PLANT - BRILLIANT , OH
Details
One (1) ITE/ Siemens dry type transformer.

Serial no.: WHP2930-1
1500/ 2000 KVA
3 phase
6900 - 600 V
60 HZ
Class AA/ FA

Approximate Dimensions: 90 in. Long x 70 in. Wide x 96 in. High

Weight (per nameplate):
Core and coils = 5580 lbs. Total = 5890 lbs.

Age of transformer is unknown.

Parts appear to be brittle and the condition of the transformer is unknown.

Transformer is located in Brilliant, Ohio and is sold "AS IS, WHERE IS".

AEP will load buyers trailer if needed.
Product Photos
View new and used equipment that American Electric Power no longer needs.
Place a bid or make an offer on available equipment.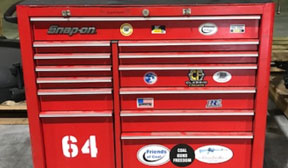 Create your user account and sign up to participate.