One (1) above ground storage tank (SOLD)
Auction ID 3264
Started
12/5/2013 3:54 PM EST
Ended
12/19/2013 1:00 PM EST
Minimum Bid Increment
$10.00
Division
AEP - Indiana & Michigan
Equipment Location
TANNERS CREEK - LAWRENCEBURG , IN
Details
One (1) above ground storage tank.

The tank holds approximately 300 gallons.
The tank was used to store diesel fuel.
Singled-walled
Approximate dimensions: 48 in. High x 27 in. Wide x 60 in. Long

Storage tank is located in Lawrenceburg, IN and is sold "AS IS, WHERE IS".

AEP can load buyer's trailer if needed.

Product Photos
View new and used equipment that American Electric Power no longer needs.
Place a bid or make an offer on available equipment.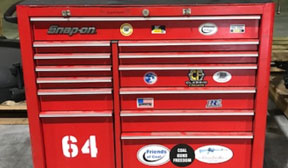 Create your user account and sign up to participate.