Auction ID 3392
Started
3/13/2014 9:16 AM EST
Ended
3/20/2014 1:00 PM EST
Minimum Bid Increment
$5.00
Equipment Location
BIG SANDY - LOUISA , KY
Details
Cabinet Shelving
Quantity:  1 lot
Location:  Cabinet Shelving is located in Louisa, KY
Condition:  Used
 
Description: This is all the information that is known for this cabinet shelving.
Known Concerns: See Description for concerns.  (Listed concerns are what have been observed by the business unit selling the vehicle and have not been validated by an auto mechanic.  Areas not listed as known concerns or None do not imply any warranty as to life or condition and only imply that a concern was not noticed by the previous user.  Cabinet Shelving is being sold AS IS WHERE IS in its existing condition.)
Product Photos
View new and used equipment that American Electric Power no longer needs.
Place a bid or make an offer on available equipment.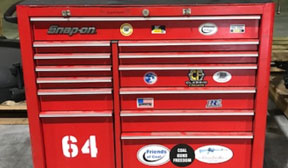 Create your user account and sign up to participate.