Cuno Filtering System (SOLD)
Auction ID 7206
Started
4/24/2018 8:37 AM EST
Ended
5/8/2018 1:00 PM EST
Minimum Bid Increment
$10.00
Equipment Location
CANTON General Service Center - CANTON , OH
Details
Condition Code
Used in working condition
One (1) Cuno oil filter system

Model: PT1W3
Filter Catalog no.: 41382-06A
Max P.S.I.G. = 100
Weighs approximately 300 lbs.

Motor Information:
MagneTek Century AC motor
HP = 1.5
PH = 1
SF = 1.15
Volts = 120

The filter system was used to process mineral oil from transformers. Only <1ppm PCB mineral oil was processed.

See ATTACHMENT 1 below for PCB lab report; residual oil in the system tested <1ppm PCB; tested March 2018.

Concerns: No known concerns.

Known Concerns: The filter system was in working condition when last used end of 2017. Listed concerns are what have been observed by the facility selling the item and have not been validated by a specialist. Areas not listed as known concerns or None, do not imply any warranty as to life or condition and only imply that a concern was not noticed by the facility users.

AEP will load buyer's transport if needed.

Oil filter system is located in Canton, OH and is sold "AS IS, WHERE IS".




Product Attachment Documents
Attachment 1

Product Photos
View new and used equipment that American Electric Power no longer needs.
Place a bid or make an offer on available equipment.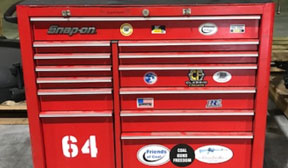 Create your user account and sign up to participate.