Auction ID 960
Started
1/24/2011 3:09 PM EST
Ended
2/7/2011 1:00 PM EST
Minimum Bid Increment
$10.00
Manufacturer
Reliance Electric
Equipment Location
GAVIN - CHESHIRE , OH
Details
Manufacturer
Reliance Electric
Condition Code
Used in working condition
One (1) Reliance Electric gear motor.
Electric
AC
150 HP
1770 RPM Input
18.296:1 Gear Ratio
575 VAC
3 Phase
60 Hz
139 AMP
444 TS Frame
Open Drip Proof Enclosure
1.15 Service Factor
Insulation Class B
Continuous Duty
Motor Design B Torque
Type P
The gear motor has been rebuilt and was in working condition when removed from service.
The gear motor was for a Barber Coleman 60 inch x 96 inch portable conveyor stacker.
The gear motor is located in Cheshire, Ohio and is sold "as is, where is".
AEP can load Buyer's truck if needed.
Product Photos
View new and used equipment that American Electric Power no longer needs.
Place a bid or make an offer on available equipment.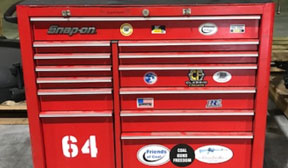 Create your user account and sign up to participate.