Lathe: Scottish Machine Tool Corp Ltd (W8.5ft x L50ft x H2.58ft) (SOLD)
Item ID 1029
Category
Tools & Machinery
Manufacturer
Scottish Machine Tool Corp Ltd
Division
AEP - Appalachian
Equipment Location
CENTRAL MACHINE SHOP - S CHARLESTON , WV
Short Equipment/Material Description
Lathe: Scottish Machine Tool Corp Ltd (W8.5ft x L50ft x H2.58ft)
AEP SURPLUS

Lathe: Scottish Machine Tool Corp Ltd (W8.5ft x L50ft x H2.58ft)

Manufacturer: Scottish Machine Tool Corp Ltd
        G. & A. Harvey Ltd.

Qty: 1 lot

Condition: Used Condition

Description: The lathe is in working condition.  The Buyer will be responsible for disassembling the lathe and loading and securing on the Buyer's transport equipment.  The Seller will permit the use of its 200 ton overhead crane to load the equipment.  (Use of crane will have to be scheduled with Seller's other on going activities.)  Buyer's disassemble crew will be required to perform its work in accordance with the facility's safety requirements.

DIMENSIONS

Lathe bed is approx. 8ft 6in. wide X 50ft Long X 2ft 7in High (Can be taken apart in 3 sections)
Headstock is approx. 7ft high X 8ft Wide X 10ft
(1) Spacer under headstock is 17in high X 8ft X 10ft
(1) Spacer under 1st spacer is 24in high X 8ft X 10ft
Compound is 40in Wide X 13ft 6ft long X 2ft 7in high
Tailstock is approx. 6ft Wide X 6ft X 10ft tall (Can be taken apart)

Conditions for sale of AEP Surplus Equipment:

~ Sold AS IS WHERE IS.  No warranty given or implied.
~ Equipment inspection at the potential buyers time and expense and must be scheduled in advance.
~ Buyer will be required to pay state sales taxes unless valid tax exemption is provided.
~ After payment clears, Buyer can arrange for pick up.
View new and used equipment that American Electric Power no longer needs.
Place a bid or make an offer on available equipment.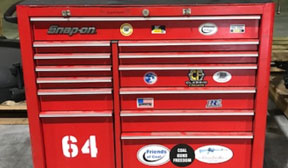 Create your user account and sign up to participate.