Snap On Brake Bleeder with Mark III refiller system (SOLD)
Item ID 12
Category
Tools & Machinery
Condition Code
New Condition (never operated)
Division
AEP - Appalachian
Equipment Location
ROANOKE SC - ROANOKE , VA
Condition Code
New Condition (never operated)
Short Equipment/Material Description
SNAP-ON Complete Brake Bleeder with Filler System
SNAP-ON Complete Brake Bleeder with Filler System (Vacula Brake Bleeder Classic with Mark III Refiller System) Complete brake bleeder kit. Comes with a vacuum bleeder unit, a Mark III refiller system, a vacuum hose with universal fitting and GM adaptor sockets (8mm & 10mm). This complete system is new and never used. Purchased from Snap-On would cost over $370. Specifications: Working pressure: 80 to 174 psi Max. air consumption: 4.6 cfm / 87 psi Air connection: 1/4" NPT. Temperature range: -4°F to +140°F Canister volume: 3.7 qts Terms: This item is being sold "as is where is". Buyer accepts all responsibility for proper use of the equipment. You are welcome to come and inspection the item but once it is sold, it is sold. No returns accepted. Buyer will be given a bill of sale for ownership transfer and acceptance of Terms & Conditions which hold seller harmless of any misuse by the buyer.
View new and used equipment that American Electric Power no longer needs.
Place a bid or make an offer on available equipment.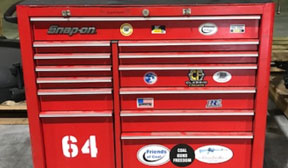 Create your user account and sign up to participate.