1966 Chris Craft Sea Skiff (SOLD)
Item ID 1273
Model Number
Corinthian Sport Cruiser
Condition Code
Good Used Condition
Division
AEP - Appalachian
Equipment Location
SMITH MOUNTAIN HYDRO - SANDY LEVEL , VA
Condition Code
Good Used Condition
Short Equipment/Material Description
1966 Chris Craft Sea Skiff
1966 Chris Craft 32ft. Sea Skiff - Corinthian Sport Cruiser.
Purchased new - one owner
 
 
 
 
Two (2) 185 HP 283 FL-15 Chevy V-8 engines; both original
 
 
Port engine has 1985 hours; overhauled at 1240 hours
 
 
Starboard engine has 2036 hours; overhauled at 1298 hours
 
SSF-32
 
Carter 4 barrel carburetors
 
 
 
 
Electronic ignition conversions
 
 
 
 
Paragon HF7 transmissions with RA 15 reduction gears
 
Two (2) 60 gallon fuel tanks
 
 
 
 
Four (4) 6-V NAPA commercial batteries - 2 each side
 
 
Drive shaft's packings show slight leaking
 
 
 
Interior needs varnish
 
 
 
 
 
Upholstery is in good shape
 
 
 
 
Floors need refinishing
 
 
 
 
Bottom needs cleaning - repainted in 2007
 
 
 
Original console, gauges, controls and steering wheel
 
 
Original trim tabs
 
 
 
 
 
One (1) swimmers ladder
 
 
 
 
Seats eleven comfortably
 
 
 
 
Contains head
 
Has always been regularly maintained - oil changes, filter changes, tune ups, etc.
Trailer not included
 
 
 
 
 
Always stored in boat house
 
 
 
 
The following repairs were done in 2007:
Replaced the rotted bottom plank on transom with a 3/4" thick mahogany board.
Repaired the center upright frame and battens and related rotten wood on transom frame.
Removed steering, rudder boxes and struts. Remove 11 rotten oak ribs and all supporting wood between ribs and transom frame. Installed new white oak ribs and new supporting lumber for struts and rudder boxes.
Replaced several planks, and ribs and repainted the bottom and varnished the transom.
In August of 2007 the boat won Best Preserved and Most Original boat awards in the 17th annual Antique boat show on Smith Mt. Lake.
Chris Craft boat is located at Smith Mountain Lake in Virginia and is sold "as is, where is".
Additional photos are located in Picasa Web Albums; copy and paste the following web address to access the photos.
https://picasaweb.google.com/pichost79/1966CrisCraftSeaSkiff?authuser=0&authkey=Gv1sRgCNmphZW-rP-16wE&feat=directlink
An appraisal survey was conducted on August 8, 2012 by a certified appraiser.
The appraisal market value is listed as $11,000.
Offers of $11,000 and higher will be considered, at this time.
The following items were listed as Remarks and Recommendations on the appraisal report:
Some rips were noted in the vinyl overlay on the bulwark decks.
The starboard stern quarter shows damage from an impact.
The deck just outside of the forward cabin feels like the plywood is delaminating from water damage.
Alternator and starter solenoids should have insulation boots installed on their positive posts.
The discharge hose on the bilge pump needs to be replaced it has a hole in the hose at the pump.
The sea valve for the water supply to the head should be double hose clamped at the fitting.
The stuffing boxes should be tightened or repacked.
Covers should be installed on the battery boxes.
The spot light bulb needs to be installed in the spot light.
The flares are out of date and should be replaced with new flares.
The Condition Rating is listed as a "5" on the appraisal report.
GOOD-AVERAGE: (5-6) Clean, saleable condition, attractive inside and out. Mechanically sound, early to mid-time on mechanicals and electronics. Minor repairs necessary.
View new and used equipment that American Electric Power no longer needs.
Place a bid or make an offer on available equipment.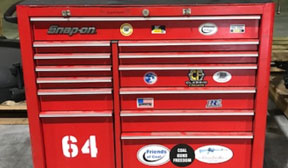 Create your user account and sign up to participate.