SNAP-ON TACH/DWELL Unit Model MT 1460 (SOLD)
Item ID 13
Category
Tools & Machinery
Condition Code
Used in working condition
Division
AEP - Appalachian
Equipment Location
ROANOKE SC - ROANOKE , VA
Condition Code
Used in working condition
Short Equipment/Material Description
SNAP-ON TACH/DWELL Unit Model MT 1460
MT1460 Specifications Monitors engine speed, ignition dwell, and fuel system dwell/duty cycle. It shorts cylinders individually to check if each is contributing its share of power, or shorts all odd or all even cylinders to enable carburetor balance checks. Tests 1- through 8-cylinder, both 2- and 4-cycle. Simultaneous RPM and dwell readouts. Automatic zero adjustment and mode change when cylinder shorting. Terms: This item is being sold "as is where is". Buyer accepts all responsibility for proper use of the equipment. You are welcome to come and inspection the item but once it is sold, it is sold. No returns accepted. Buyer will be given a bill of sale for ownership transfer and acceptance of Terms & Conditions which hold seller harmless of any misuse by the buyer.
View new and used equipment that American Electric Power no longer needs.
Place a bid or make an offer on available equipment.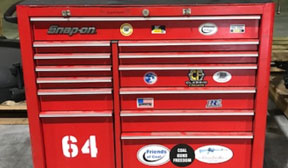 Create your user account and sign up to participate.