Item ID 1310
Category
Tools & Machinery
Manufacturer
The Lincoln Electric Co.
Equipment Location
TULSA POWER STATION - TULSA , OK
Short Equipment/Material Description
Lincoln Welder
One (1) Lincoln shield arc welder.

Model: SAE-200
Code no.: 6010
Serial no.: A-622647
Volts: 40
RPM: 1800
Volts: 230 - 460
3 Phase
AMPS: 44 - 22
60 Cycles

The welder is in non-working condition. Reason for not working is unknown.

The welder is located in Tulsa, Oklahoma and is sold "AS IS, where is".

See ATTACHMENT 1 below for a copy of the spec. sheet.

View new and used equipment that American Electric Power no longer needs.
Place a bid or make an offer on available equipment.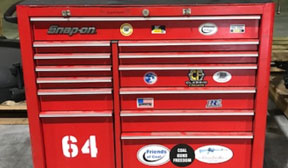 Create your user account and sign up to participate.