Mower Commercial Grade Hydraulic Rotary Rider (SOLD)
Item ID 134
Category
Tools & Machinery
Condition Code
Used needs repairs
Division
AEP - Appalachian
Equipment Location
SPORN - NEW HAVEN , WV
Condition Code
Used needs repairs
Short Equipment/Material Description
1997 Kut Kwick Super-SlopeMaster Mower
KUT KWICK MOWER
(Super-Slope Master)
1997 model hydraulic rotary mower
Model # SSM35-72DY
Serial # 52304
72" cut
35 hp Yanmar diesel engine
Engine Model: 3TN 84E-S
3200 rpm
Hour meter: 942 hours
The mower has not been run in about 3 years due to axle being stripped. This mower is capable of operating on very steep slopes and the new price was in the $30,000 range. Replacement parts are available from the supplier. See attachment for Kut Kwick mower specs. This item is being sold "AS IS WHERE IS". Seller will assist loading the vehicle on the buyer's transport vehicle.
View new and used equipment that American Electric Power no longer needs.
Place a bid or make an offer on available equipment.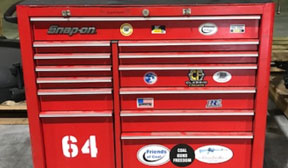 Create your user account and sign up to participate.