Steel Road Plates 14.17ft X 8.17ft (1 inch thick) (SOLD)
Item ID 1539
Equipment Location
Clifty Creek - Madison, IN
Short Equipment/Material Description
Steel Road Plates 14.17ft X 8.17ft (1 inch thick)
Indiana-Kentucky Electric Corp SURPLUS EQUIPMENT
Steel Road Plates 14.17ft X 8.17ft (1 inch thick)
13 ~ 14ft-2in x 8ft-2in 
Quantity:  13 Plates Being sold for a price for each
Location:  This item is located in Madison, Indiana
Condition:  Good
Description: Being sold price per each plate. Normal wear and tear.  No known concerns. Site will load when scheduled in advance.
Known Concerns: See Description for concerns.  (Listed concerns are what have been observed by the business unit selling the item and have not been validated by a technician.  Areas not listed as known concerns or None do not imply any warranty as to life or condition and only imply that a concern was not noticed by the previous user.  This item is being sold AS IS WHERE IS in its existing condition.)
Conditions for sale of OVEC Surplus Equipment / Material:
~ All Items are sold AS IS WHERE IS.  No warranty given or implied.
~ Inspections are on the potential buyers time and expense and must be scheduled in advance.
~ Test operation of the item will not be permitted.
~ Buyer will be required to sign a Bill of Sale and pay any applicable taxes.
~ After payment clears,  the buyer can arrange for pick up.
~ Indiana-Kentucky Electric Corp branding decals will be removed prior to the sale.
View new and used equipment that American Electric Power no longer needs.
Place a bid or make an offer on available equipment.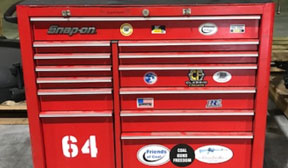 Create your user account and sign up to participate.