Goodyear Pylon Plus conveyor belt (SOLD)
Item ID 1568
Category
Coal & Ash Handling Equipment
Condition Code
Good Used Condition
Equipment Location
FLINT CREEK POWER PLANT - GENTRY , AR
Condition Code
Good Used Condition
Short Equipment/Material Description
Goodyear Pylon Plus conveyor belt
One (1) roll Goodyear Pylon Plus conveyor belt.

42 in. Wide;
3 ply;
7/32 in. x 1/8 in. thick cover (original measurements);
600 PIW;
RMA Grade I
Survivor
Approximately 800 ft. in length.

All measurements are approximations and may not be exact. A site visit may be scheduled to verify measurements to your satisfaction.

Concerns: The roll of conveyor belt appears to be in good condition.

Known Concerns: Listed concerns are what have been observed by the facility selling the item and have not been validated by a technician. Areas not listed as known concerns or None, do not imply any warranty as to life or condition and only imply that a concern was not noticed by the facility users.

AEP can load buyers trailer.

Conveyor belt is located in Gentry, Arkansas and is sold 'AS IS, WHERE IS'.
View new and used equipment that American Electric Power no longer needs.
Place a bid or make an offer on available equipment.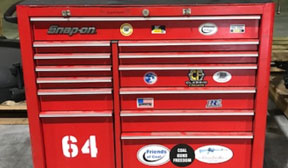 Create your user account and sign up to participate.