Chevorlet 2007 Express 3500 Cargo Van (SOLD)
Item ID 158
Model Number
Express Van 3500 Cargo
Condition Code
Used for Parts only
Division
AEP - Appalachian
Equipment Location
BLUEFIELD - BLUEFIELD , WV
Condition Code
Used for Parts only
Short Equipment/Material Description
2007 Chevrolet Express Van 3500 Cargo (Parts Only)
2007 Chevrolet Express 3500 Cargo Van
4 spd auto transmission
VORTEC 4.8L V8
24K miles
Class 1 ton
Extensive damage from accident-use for parts only
There is no damage to the rear
Engine and transmission may have damage - unit not running
This unit is being sold "AS IS WHERE IS". The vehicle has a West Virginia Title and the title will be transferred to the Buyer after payment is received. Additional photos of the vehicle can be seen at (http://picasaweb.google.com/pichost79/FleetVanTotaled?feat=directlink) Buyer will be responsible for loading and transporting vehicle.
View new and used equipment that American Electric Power no longer needs.
Place a bid or make an offer on available equipment.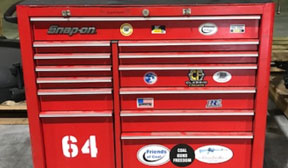 Create your user account and sign up to participate.