One (1) American Dish Service commercial dishwasher (SOLD)
Item ID 1731
Equipment Location
SHREVEPORT SC - SHREVEPORT , LA
Short Equipment/Material Description
One (1) American Dish Service commercial dishwasher
One (1) American Dish Service commercial dishwasher.

Model no.: 5AG-S
Two, quick service 1.5 HP pumps;
115 volt; 40 amp; single phase;
Door opeining: 20 1/2 in.;
Water consumption: 3.2 gallons per cycle;
Stainless steel air-gap fill;
Quick release spray arms;
Built-in chemical dispensing;
Two (2) stainless steel "clip on" dish tables w/ galvanized legs, 24 in. x 24 in.;
Shipping weight (per spec sheet): 408 lbs.

Concerns: No known concerns. Dishwasher is in working condition.

Known Concerns: Listed concerns are what have been observed by the facility selling the item and have not been validated by a technician. Areas not listed as known concerns or None, do not imply any warranty as to life or condition and only imply that a concern was not noticed by the facility users.

Dishwasher is located in Shreveport, LA and is sold "AS IS, WHERE IS".

see ATTACHMENTS below for dishwasher spec sheet, brochure and owners manual.


View new and used equipment that American Electric Power no longer needs.
Place a bid or make an offer on available equipment.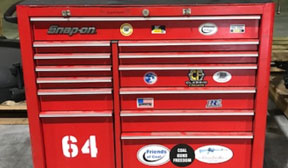 Create your user account and sign up to participate.