EX2000 Circuit Board (CPCA, PTCT, NTBA, RTBA, ACNA, SHVI, LTBA, EXPS, DE-EXC, FLD GND, RTBA, LDCC, TCCB, DCFB, PCCA, GDPA) (SOLD)
Item ID 1798
Category
Electronic Equipment
Model Number
CPCA, PTCT, NTBA, RTBA, ACNA, SHVI, LTBA, EXPS, DE
Condition Code
Good Used Condition
Division
AEP Generation Resources
Equipment Location
DARBY PLANT - MT STERLING , OH
Condition Code
Good Used Condition
Short Equipment/Material Description
EX2000 Circuit Board (CPCA, PTCT, NTBA, RTBA, ACNA, SHVI, LTBA, EXPS, DE-EXC, FLD GND, RTBA, LDCC, TCCB, DCFB, PCCA, GDPA)
AEP SURPLUS EQUIPMENT
EX2000 Circuit Board  (CPCA, PTCT, NTBA, RTBA, ACNA, SHVI, LTBA, EXPS, DE-EXC, FLD GND, RTBA, LDCC, TCCB, DCFB, PCCA, GDPA)
| | | | |
| --- | --- | --- | --- |
| EX2000 Part | Short name | Description | TOTAL QTY |
| DS200CPCAG1ABB | CPCA | CONTACTOR PILOT CONTROL CARD | 12 |
| DS200PTCTG2BAA | PTCT | PTCT I/O BOARD (PCM) | 9 |
| 531X305NTBAPG1 | NTBA | TERMINAL BOARD (PCM) | 9 |
| DS200RTBAG5AHC | RTBA | TERMINAL BOARD, REMOTE (PCM) | 10 |
| DS200ACNAG1ADD | ACNA | ARCNET COMM CONTROL CARD | 8 |
| DS200SHVIG1BGD | SHVI | SCR BRIDGE INTERFACE CARD | 11 |
| 531X307LTBAKG1 | LTBA | LOCAL TERMINAL BRD, PCM | 15 |
| DS2020EXPSG3 | EXPS | POWER SUPPLY MODULE  | 14 |
| 246B2357BAG03 | DE-EXC | DE-EXCITATION MODULE ASSEMBLY | 5 |
| DS3820NGDB | FLD GND | FIELD GROUND DETECTION MODULE | 0 |
| DS200RTBAG2AHC | RTBA | RTBA (????) | 2 |
| DS200LDCCH1AMA | LDCC | COMMUNICATION BOARD | 0 |
| DS200TCCBG8BED | TCCB | EXTENDED I/O COMM CONTROL CARD | 5 |
| DS200DCFBG1BLC | DCFB | DC POWER & FEEDBACK CONTROL CARD | 0 |
| DS200PCCAG6ACB | PCCA | BOARD (PCM) - ???? | 4 |
| DS200GDPAG1AKF | GDPA | POWER SUPPLY | 14 |
Quantity:  128
Pricing:
Qty ~ Unit price per card
1 ~ $800 each
10- 19~ $600 each
20- 39~ $500 each
40- up~ $200 each
Location:  This item is located in Conesville, OH
Condition:  Used
Description: No known concerns.  Boards were in working condition when removed from service.  Since removal from service the boards have not been tested or refurbished.  See attachment for photos of some of the boards.
Known Concerns: See Description for concerns.  (Listed concerns are what have been observed by the business unit selling the vehicle and have not been validated by an auto mechanic.  Areas not listed as known concerns or None do not imply any warranty as to life or condition and only imply that a concern was not noticed by the previous user.  Vehicle is being sold AS IS WHERE IS in its existing condition.)
Conditions for sale of AEP Surplus Equipment / Material:
~ All Items are sold AS IS WHERE IS.  No warranty given or implied.
~ All sales are final.
~ Items that do match the sales description can be returned for a refund of the purchase price or exchanged if another one is available.  Shipping and handling expenses are not refundable and are the responsibility of the Buyer.
~ Inspections are on the potential buyers time and expense and must be scheduled in advance.
~ Test operation of the item will not be permitted.
~ Buyer will be required to sign a Bill of Sale and pay any applicable taxes.
~ After payment clears,  the buyer can arrange for pick up.
~ Buyer must present a copy of the pickup release at the time of pickup.
~ Buyer shall have appropriate hauling equipment for the item(s) being picked up.
~ Buyer is responsible for positioning  and securing the item(s) on the transport vehicle.
~ If applicable AEP branding decals will be removed prior to the sale.
View new and used equipment that American Electric Power no longer needs.
Place a bid or make an offer on available equipment.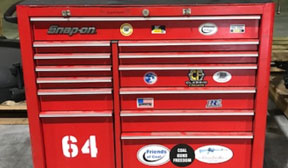 Create your user account and sign up to participate.