One (1) Cryoquip SF-6 gas recycling cart (AEP ID 910922) (SOLD)
Item ID 1810
Equipment Location
SPRINGDALE STATION - SPRINGDALE , AR
Short Equipment/Material Description
One (1) Cryoquip SF-6 gas recycling cart (AEP ID 910922)
One (1) Cryoquip SF-6 gas recycling cart (AEP ID 910922).

Serial no.: 43159-1
Model: 375 TM
Rating: 490 CFH
Year Mfg.: 1990
MAWP: 545 PSIG
K.W.: 16
Amps: 44
Volts: 230
Phase: 1

~The SF-6 gas cart was in working condition when last used in 2012.
~The cart has the capability to fill cylinders; a storage tank is included.
~AEP has manual and will be included in the sale.
~Onboard filtering is used to remove particulates and moisture from the SF6 gas. The trailer includes a scrubber filter that "cleans" the gas.
~Includes refrigeration system.
~The system uses several filters; instructon manual contains information on filter size and quantity.
~Onboard storage tank includes heater; AEP is not certain whether the heater works or not.
~It is believed that the gas cart is road worthy.

~SF-6 gas cart is located in Springdale, Arkansas and is sold "AS IS, WHERE IS".

~ Buyer will be required to sign a statement asserting that sales tax will be paid in the state the gas cart is titled.
~ Buyer will be responsible for obtaining temporary tags for removing the gas cart from the site or haul the gas cart on a licensed transport.


View new and used equipment that American Electric Power no longer needs.
Place a bid or make an offer on available equipment.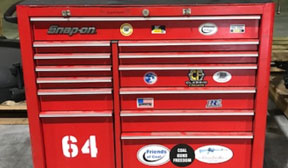 Create your user account and sign up to participate.