One (1) Summit lathe (SOLD)
Item ID 1841
Category
Tools & Machinery
Division
AEP - Appalachian
Equipment Location
JOHN W. VAUGHN CENTER ROANOKE - Roanoke, VA
Short Equipment/Material Description
One (1) Summit lathe
One (1) Summit lathe.

Model: 11X32
Serial no.: 361
3 Phase

See nameplate pictures for additional information.

Also included in the sale are lathe parts and the cabinet containing the parts; shown in above pictures.

Concerns: When last used the lathe was in working condition. It has been a number of years since the lathe was last used. It is unknown whether or not it is currently in working condition.

Known Concerns: Listed concerns are what have been observed by the facility selling the item and have not been validated by a technician. Areas not listed as known concerns or None, do not imply any warranty as to life or condition and only imply that a concern was not noticed by the facility users.

AEP can load Buyer's transport if needed.

Lathe is located in Roanoke, VA and is sold "AS IS, WHERE IS".


View new and used equipment that American Electric Power no longer needs.
Place a bid or make an offer on available equipment.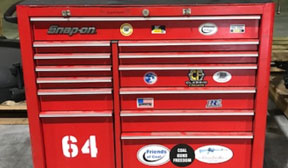 Create your user account and sign up to participate.