Item ID 292
Serial Number
1FDAF57F81EC32565
Condition Code
Used needs repairs
Equipment Location
MCALESTER - MCALESTER , OK
Condition Code
Used needs repairs
Short Equipment/Material Description
One man bucket truck.
2001 Ford F550 one man bucket truck.

VIN: 1FDAF57F81EC32565

Mileage - 151,530

The engine is in need of repair; the #8 cylinder is bad; the truck is currently not drivable.

Liftall hydraulic one man bucket. In working condition.
VIN of Liftall: 7102060132FB
Model: LAH-32-1S

The truck is being sold "as is where is". Buyer will be responsible for loading and transporting the truck from the AEP site in a safe manner.

7.3 liter engine
V-8 diesel.
Automatic transmission.

4-wheel drive.
Newer tires.
View new and used equipment that American Electric Power no longer needs.
Place a bid or make an offer on available equipment.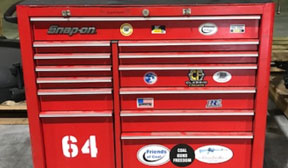 Create your user account and sign up to participate.