2007 Polaris Ranger 700 6X6 (980435) (SOLD)
Item ID 3186
Model Number
Ranger R07RF68AD
Serial Number
4XARF68A674394488
Condition Code
Poor Used Condition
Equipment Location
Corpus Christi SC Warehouse - Corpus Christi, TX
Condition Code
Poor Used Condition
Short Equipment/Material Description
2007 Polaris Ranger 700 6X6 (980435)
COVID-19 UPDATE: Thank you for your interest in AEP's auction items.
Our facilities are currently not open to visitors to help protect the health of our employees during the coronavirus outbreak.
Inspections of auction items may not be available at this time, since AEP facilities are currently not open to visitors.
Please note that if you are the winning bidder of an auction, pickup may be delayed.
We will work with you to arrange a time when you can pick your item(s) up once these restrictions are no longer in place.
AEP SURPLUS EQUIPMENT
AEP ID: 980435
2007 Polaris Ranger 700 6X6 (980435)
Serial Number:  4XARF68A674394488
Manufacturer:  Polaris
Model:  Ranger R07RF68AD
Model Year:  2007
Current Hour Reading:  162.9 hrs
Attachments included:  No
Transmission:  Automatic
Motor Size: 700 EFI     
Quantity: 1 Lot
Location:  This vehicle is located in Corpus Christi, TX
Condition: Poor 
Unit last used: September 2019 
Unit in working condition:  Yes
Lighting in working condition:  Yes   
 
Description: Very Rusty Chassis - Hard to Start
Known Concerns: See Description for concerns.  (Listed concerns are what have been observed by the business unit selling the vehicle and have not been validated by an auto mechanic.  Areas not listed as known concerns or none do not imply any warranty as to life or condition and only imply that a concern was not noticed by the previous user.  Vehicle is being sold AS IS WHERE IS in its existing condition.)
Conditions for sale of AEP Surplus Vehicles:
~ All vehicles are sold AS IS WHERE IS.  No warranty given or implied.
~ Vehicle inspection at the potential buyers time and expense and must be scheduled in advance.
~ Test driving of the vehicle will not be permitted.
~ Buyer will be required to sign a Bill of Sale and a statement that sales taxes will be paid in the state the vehicle is titled.
~ After payment clears, a title will be sent to the buyer and pick up can be arranged.
~ Buyer must present a copy of the pickup release at the time of pickup.
~ Buyer shall have appropriate hauling equipment for the item(s) being picked up.
~ Buyer is responsible for positioning and securing the item(s) on the transport vehicle.
~ Buyer will be responsible for obtaining temporary tags for removing the vehicle from the site or haul the vehicle on a licensed transport.
~ AEP branding decals will be removed prior to the sale.
View new and used equipment that American Electric Power no longer needs.
Place a bid or make an offer on available equipment.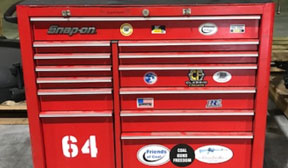 Create your user account and sign up to participate.