Sturdy-Lite 7378 Series Cab Rack (SOLD)
Item ID 3241
Serial Number
8-30-18-2-DF
Condition Code
Good Used Condition
Division
AEP - Indiana & Michigan
Equipment Location
SOUTH BEND - SOUTH BEND , IN
Condition Code
Good Used Condition
Short Equipment/Material Description
Sturdy-Lite 7378 Series Cab Rack
73"H x 78"W - With Chain Hangers, Full Tray, & Bar Window
Cab Rack was removed from a 2019 International HX620. Dimensions are approximate, are based on the model number, and may not be exact.
Known Concerns:  None
Listed concerns are what have been observed by the business unit selling the item and have not been validated by a technician.  Areas not listed as known concerns or none do not imply any warranty as to life or condition and only imply that a concern was not noticed by the previous user.  This item is being sold AS IS WHERE IS in its existing condition. 
Note: Due to Covid-19, restrictions are in place. Inspections of auction items may not be available at this time. Please note that if you are the winning bidder of an auction pickup may be delayed. We will work with you to arrange a time when you can safely pickup your item.
View new and used equipment that American Electric Power no longer needs.
Place a bid or make an offer on available equipment.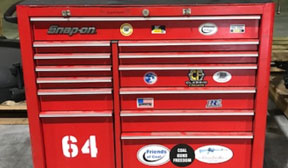 Create your user account and sign up to participate.