Atlas Copco GA30+ Air Compressor (SOLD)
Item ID 3340
Category
Tools & Machinery
Condition Code
Unused condition
Equipment Location
Dolet Hills Mine Office - Pelican, LA
Condition Code
Unused condition
Short Equipment/Material Description
Atlas Copco GA30+ Air Compressor
Year: 2018
Manufacturer: Atlas Copco Air Compressor
Model: GA30+
Serial: API585823
MAWP: 132 psi
CFM: 193
Voltage: 460v / 60 Hz / 3 Ph
Approx Weight: 1418 lbs
Last Used: Unused
Will AEP/Site load onto the buyer's transport? Yes
Known Concerns:  None
Buyer Please Note
All Items are sold AS IS WHERE IS. No warranty is given or implied.
TEST OPERATION of the item will not be permitted
TAXES - The Buyer is responsible for any local and state sales taxes for the state where the transfer of ownership occurs. Sales taxes will be added to the purchase price and included on the invoice unless the Buyer provides a tax exemption or resale certification for the state where ownership transfer occurs.
PAYMENT must be received within fifteen (15) days of the date of the sale Contract.
REMOVAL OF GOODS must be completed within fifteen (15) days of receipt of payment.
MSHA - Any disassembly or work to be performed on-site (with the exception of securing the equipment to the transport vehicle) must be performed by a Contractor satisfying MSHA requirements.  
KNOWN CONCERNS are what have been observed by the business unit selling the item and have not been validated by a technician.  Areas not listed as known concerns or None do not imply any warranty as to life or condition and only imply that a concern was not noticed by the previous user.  This item is being sold AS IS WHERE IS in its existing condition.
Due to an increasing number of COVID cases, some restrictions are in place at AEP facilities. If entering an AEP facility a mask/face covering is required. Pickup may be delayed at AEP's discretion.
View new and used equipment that American Electric Power no longer needs.
Place a bid or make an offer on available equipment.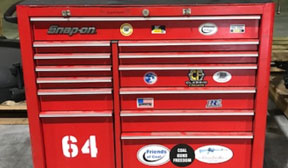 Create your user account and sign up to participate.