Refrigerator / Freezer (SOLD)
Item ID 34
Condition Code
Used in working condition
Equipment Location
AEP SERVICE CORP - COLUMBUS , OH
Condition Code
Used in working condition
Short Equipment/Material Description
Whirlpool Side by Side Refrigerator Freezer
Whirlpool Side by Side Refrigerator Freezer

Manufacturer: Whirlpool
Model: EHD-191AK
Size:19.1 Cu. Ft.
Age: approximately 15

The unit is in operating condition. The unit is located at the Dolan Lab in Groveport, OH and can be inspected by appointment. The bottom grill plate is missing. The unit is being sold "as is where is".
View new and used equipment that American Electric Power no longer needs.
Place a bid or make an offer on available equipment.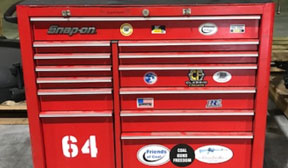 Create your user account and sign up to participate.