Jib Crane Yale 4000 lb Floor Mounted (SOLD)
Item ID 367
Category
Tools & Machinery
Model Number
KEL-1-13TT1551
Equipment Location
TEXARKANA - TEXARKANA , TX
Type/Size
4000 lb chain Hoist
Short Equipment/Material Description
Floor mounted jib crane
4000 lb floor mounted jib. 15' high wi 10' span. Weights about 2500 lbs. with a yale 4000 lb chain hoist. Mounting bolts are on 16 inch centers.
This item is being sold with a RESERVE. If at the end of the auction the RESERVE is not met, the owning business unit will be contacted and asked to consider the highest bid received. If the highest bid is equal to the RESERVE or higher the item will be awarded to the high bidder.
Clarification: 
(1) The seller will disassemble into basically two pieces (Jib w/hoist and mast) and will assist loading on buyers transport with a forklift.
View new and used equipment that American Electric Power no longer needs.
Place a bid or make an offer on available equipment.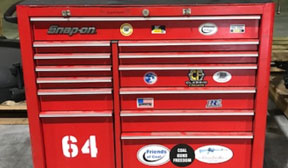 Create your user account and sign up to participate.