2002 Ford E350 Service Truck (SOLD)
Item ID 404
Serial Number
1FDSE35F82HA80446
Condition Code
Fair Used Condition
Equipment Location
CANTON General Service Center - CANTON , OH
Decommisioning Date
4/21/2009
Condition Code
Fair Used Condition
Short Equipment/Material Description
2002 Ford E350 Service Truck
2002 Ford E350 Service Truck. Involved in fire - selling for service body only.

Knapheide KUV van.

Previously used as a utility service truck.

Mileage = 89,814

There is smoke damage to the interior of the service body and possible damage to the door latches.
The windows to the two doors of the service body are broken.

Approximate dimensions:
Overall body length = 127"
Overall body width = 94"
Overall body height = 75"
Overall door width = 61"
Overall door height = 53"
Floor to top clear interior height = 63"
View new and used equipment that American Electric Power no longer needs.
Place a bid or make an offer on available equipment.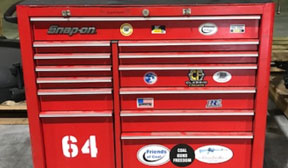 Create your user account and sign up to participate.