Auto Repair: Ammco Brake Lathe Model 4000 (SOLD)
Item ID 616
Condition Code
Used in working condition
Equipment Location
ABILENE HUB - ABILENE , TX
Condition Code
Used in working condition
Short Equipment/Material Description
AMMCO Brake Lathe Model 4000
AEP SURPLUS EQUIPMENT
AMMCO Brake Lathe
Manufacturer: AMMCO
Model:  4000
SN: 0001609537
Volts:  120
Weight 385 lbs
Quantity:  1
Description:  AMMCO Model 4000, Has adapters and bar to do rotors and drums also has additional bar for some medium duty truck drums. The units are approximately 10 years old and have had very little use. Include work bench shown in the photo and a Peg board rack with the asscessories.  See Attachments for specifications, parts listing, and O&M Manual.
Condition:   Used Working Condition
Conditions for sale of AEP Surplus Equipment:
~ All material is sold AS IS WHERE IS.  No waranty given or implied.
~ Inspections must be scheduled in advance.
~ Buyer will be required to pay state sales taxes unless valid tax exemption is provided.
~ After payment clears, Buyer can be arranged for pick up.
~ Buyer will be responsible for securing the load and transporting from plant location.
View new and used equipment that American Electric Power no longer needs.
Place a bid or make an offer on available equipment.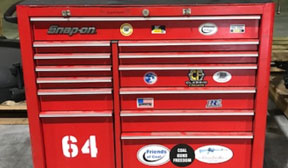 Create your user account and sign up to participate.