Truck Cap: GEMTOP WORKMASTER (SOLD)
Item ID 640
Model Number
GEMTOP WORKMASTER
Manufacturer
Brand FX GemTop
Equipment Location
LON HILL T/S FACILITY - CORPUS CHRISTI , TX
Short Equipment/Material Description
GEMTOP WORKMASTER TRUCK CAP (for 2008 F250 4x4 Short Bed)
AEP SURPLUS EQUIPMENT
GEMTOP WORKMASTER TRUCK CAP (for 2008 F250 4x4 Short Bed)
Manuf:  Brand FX GemTop
Model: WorkMaster
Year:    2007
Fits: 2008 F250 4x4 Short Bed (6.75 foot cargo box)
Features Include:· Solid Steel Sides
· Fixed Front Window
· White Baked on Enamel Finish
· Foam Insulated Roof
· Paddle Handles
· Rotary Latches
· Third Brake Light
· Continuous Door Hinges
· Dome Light (12v)
· 26 Gauge Galvanized Steel Skin
· 17 Gauge Galvanized Steel Framing
· Rubber Seals & Weather Stripping Around Door
· Welded & Rivited Construction
· Painted Interior
· Heavy Duty 4 X 4 Package
· Lift Up Side Doors (Both Sides)
· Fixed Window for Lift up side door, tinted (Both Sides)
· Double Walk in Rear Doors
· Windows, Double Walk in Rear Doors, Tinted
· Additional Dome Light

Description: This truck cap is new and still in the shipping crate.  Attached is the manufacture's product brochure.
Conditon:  New Condition
Known Concerns:  None
(Listed concerns are what have been observed by the business unit selling the vehicle and have not been validated by a mechanic.   Areas not listed as known concerns or listed as None do not imply any warranty as to life or condition and only imply that a concern was not noticed by the previous user.  Vehicle is being sold AS IS WHERE IS in its existing condition.)

Conditions for sale of AEP Surplus Vehicles:
~ All material is sold AS IS WHERE IS.  No waranty given or implied.
~ Inspections must be scheduled in advance.
~ Buyer will be required to pay state sales taxes unless valid tax exemption is provided.
~ After payment clears, Buyer can be arranged for pick up.
View new and used equipment that American Electric Power no longer needs.
Place a bid or make an offer on available equipment.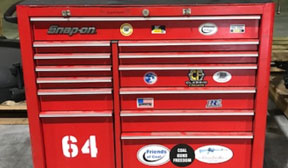 Create your user account and sign up to participate.