Equipment Trailer GVW 5300 Dove Tail Tandem Axle (SOLD)
Item ID 697
Serial Number
FT195294001
Manufacturer
Campagne Auto Service
Condition Code
Used in working condition
Equipment Location
HARLINGEN T/S FACILITY - HARLINGEN , TX
Condition Code
Used in working condition
Short Equipment/Material Description
Dove Tail Tandem Axle Equipment Trailer GVW 5300
AEP SURPLUS EQUIPMENT
Dove Tail Tandem Axle Equipment Trailer GVW 5300
Manufacturer: Campagne Auto Service
Model: TF15
Size: 18 ft.  x 7 ft .- 10 in. (6 ft. - 8 in. between wheel wells)
GVW:  5300 lbs
SN: FT195294001
Year 1994
Quantity:  1
Description:  Light Duty Flat Bed Equipment Trailer18 ft  X 7 ft -10 in.   Flat bed has 2 ft dove tail rear drop,  tandem axle with LT235-85-R16 tires. Electric operated brakes, trailer lighting, 7 way wire connector, and Pintal Hitch with a Bulldog type tongue jack. Trailer comes with a Texas title.  Title will be transfered to buyer at the completion of the sale.
Condition:   Used working condition
Conditions for sale of AEP Surplus Equipment:
~ All material is sold AS IS WHERE IS.  No waranty given or implied.
~ Inspections must be scheduled in advance.
~ Buyer will be required to pay state sales taxes unless valid tax exemption is provided.
~ After payment clears, Buyer can be arranged for pick up.
View new and used equipment that American Electric Power no longer needs.
Place a bid or make an offer on available equipment.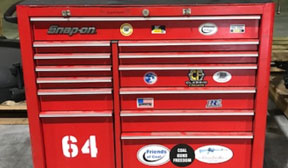 Create your user account and sign up to participate.