Tonneau Cover for Ford F150 (SOLD)
Item ID 745
Model Number
5195 FL LSII
Condition Code
Used in working condition
Equipment Location
LIPAN SERVICE CENTER - CORPUS CHRISTI , TX
Manufacturer P/N
2008FIDXFL
Condition Code
Used in working condition
Short Equipment/Material Description
A.R.E Pick Up Bed Cover
Tonneau Cover by A.R.E Manufacturing Company
Serial No. N1683509
Made for 2008 Ford F150
 DC XS LSII Series
This A.R.E. LSII Series Tonneau cover is 73¼" by 73½"
This item was temporarily installed on the Ford F150 and was removed. It is like new.
SOLD AS-IS, WHERE-IS
View new and used equipment that American Electric Power no longer needs.
Place a bid or make an offer on available equipment.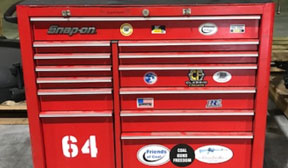 Create your user account and sign up to participate.