PRECO Preview Collision Warning Radar System (SOLD)
Item ID 809
Manufacturer
Preco Electronics
Condition Code
New Condition (unused)
Division
AEP - Appalachian
Equipment Location
JOHN W. VAUGHN CENTER ROANOKE - Roanoke, VA
Condition Code
New Condition (unused)
Short Equipment/Material Description
Radar Back - Up System
AEP SURPLUS EQUIPMENT
SPV2015 PRECO Preview Collision Warning Radar System
Manufacturer: Preco Electronics
Model: SPV 2015
Quantity: 8
Condition: New (Operating Manual/Installation Guide in attachment)
Description: Model SPV 2015 has a coverage of up to 15 ft detection range. Preco's PreView™ Collision Warning Radar Systems are designed to help prevent heavy equipment collisions and accidents by alerting vehicle operators to potential danger in time to take action. From your delivery van to the mining haul truck, the PreView™ systems will work in all of your work environments and will take what ever mother nature can throw at them. Robust design and potted circuitry ensures the reliability of these systems. The Standard PreView™ is a solid-state, pulsed radar object detection system designed to alert vehicle operators to obstacles. The system detects both moving and stationary objects in a pre-defined coverage area and reports the distance of the closest object via visual range indicators and an audible signal to a vehicle operator. The Standard PreView™ consists of three major components: an environmentally sealed sensor, an operator display mounted in the cab of the vehicle, and a recommended external back up warning alarm. The system does not require frequent cleaning and will operate under harsh weather conditions, including temperature extremes, rain, sleet, snow, or fog.
Conditions for sale of AEP Surplus Equipment:
~ All material is sold AS IS WHERE IS. No warranty given or implied.
~ Inspections must be scheduled in advance.
~ Buyer will be required to pay state sales taxes unless valid tax exemption is provided.
~ After payment clears, Buyer can be arranged for pick up.
View new and used equipment that American Electric Power no longer needs.
Place a bid or make an offer on available equipment.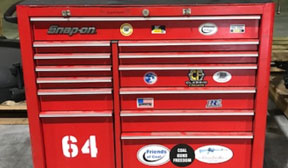 Create your user account and sign up to participate.