Rail Car Rotaside Dumper Facility with two lines (SOLD)
Item ID 88
Category
Coal & Ash Handling Equipment
Manufacturer
Whiting Corporation
Division
AEP - Appalachian
Equipment Location
AMOS - WINFIELD , WV
Short Equipment/Material Description
Rail Car Rotaside Dumper Facility
Rail Car Rotaside Dumper Facility
~ Description:  A car positioner locates a single rail car within one of the rotaside dumpers.  The rotaside dumper rotates a loaded rail car above a center hopper covered with a grid screen where the coal is gravity discharged from the top of the rail car.  There are two rotaside dumpers located on each side of the center hopper.  A hammer mill is located on top of the grid screen to pulverize any coal clumps through the hopper screens.  The hoppers lead to three feeder conveyors that feed a single underground collection conveyor that transfers the dumped coal to a elevated station.
~ The complete Rail Car Rotaside Dumper Facility includes buildings, electrical equipment, conveyor, controls (transformers, switchgear, MCCs), wiring, fire suppression system within the area of the dumper facility is being offered for sale.  Spare parts are included.  The following items are not included: fenced 1500 kva substation, building concrete foundations, underground piping, and valving for underground piping.  Buyer is not required to remove the concrete foundations.

~ Buyer shall at its expense provide everything necessary including, but not limited to, labor, supervision, equipment, tools, transportation, permits, flaggers and any other items needed to remove and haul away the equipment in a safe and hazard-free manner. Work will be performed under union agreement and site safety requirements. Environmental Regulations must be adhered to. Onsite disposal for concrete material will be provided as necessary.


Manufacturer

Whiting Corporation

Year

1969

Building Size

100' wide x 80' long x 34' 2" high at side walls

Control Room

Masonry Bldg with cable

x 13' 8" high

Description

Range for rail cars

Min

Max

Length

30'-0"

56'-0"

Width

9'-6"

10'-8"

Height

9'-6"

10'-8"

Rail Car Gross Weight

150 tons

Rotation from horizontal

150 degrees

Car Dumper Drive Motors

Reliance Motor 250 hp 850 RPM, Frame 584ATZ

Dumper Gear Reducers

Falk Parallel shaft ratio 13.82:1 Model No. 2150-Y2-S

Car Positioner Main Drives

Reliance Motor 60 hp 850 RPM, Frame 405AT

Positioner Gear Reducers

David Brown Rt Angle Vertical ratio 4.51:1

Progression Drive Motors

Reliance Motor 75 hp 1800 RPM, Frame 5008-SZ

Sta Powered thru

1500 kva transformer 4.2kV / 600V 3Ø

Condition

Equipment has not been operated for several years.
~ Additional photos of the equipment may be viewed at (
http://picasaweb.google.com/pichost79/AmosRailCarDumper?feat=directlink
 ).
~This equipment has been out of service for several years and is being sold "as is where is".
---
View new and used equipment that American Electric Power no longer needs.
Place a bid or make an offer on available equipment.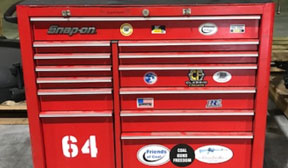 Create your user account and sign up to participate.