Item ID 985
Category
Tools & Machinery
Manufacturer
LINCOLN ELECTRIC CO
Condition Code
Poor Used Condition
Equipment Location
NORTHEAST STATION - 3 & 4 - OOLOGAH , OK
Decommisioning Date
10/1/2005
Condition Code
Poor Used Condition
Short Equipment/Material Description
Lincoln Welder
One (1) Lincoln Electric Welder

Concerns: not sure if welder works. The leads are in bad shape and needs work.
The concerns are what have been observed by the business unit selling the item and have not been validated by an expert. Areas not listed as known concerns do not imply any warranty as to life or condition and only imply that a concern was not noticed by the previous user. Welder is being sold AS IS WHERE IS.

Welder is located in Oologah, Oklahoma.
View new and used equipment that American Electric Power no longer needs.
Place a bid or make an offer on available equipment.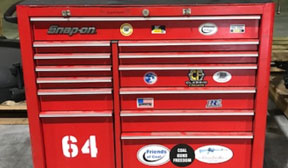 Create your user account and sign up to participate.