Item ID 998
Equipment Location
OKLAUNION POWER STATION - VERNON , TX
Short Equipment/Material Description
Bobcat attachment
One (1) Bobcat 709 Backhoe attachment.

Serial No. 270005989

Concerns: The Bobcat attachment was in working condition when removed from service. There are rust pits on the bucket cylinder and the hoses show signs of dry rot.
The attachment has been sitting, unused for approximately 3 years.

The concerns are what have been observed by the business unit selling the item and have not been validated by an expert. Areas not listed as known concerns do not imply any warranty as to life or condition and only imply that a concern was not noticed by the previous user.

The Bobcat attachment is located in Vernon, Texas and is being sold "as is, where is".
View new and used equipment that American Electric Power no longer needs.
Place a bid or make an offer on available equipment.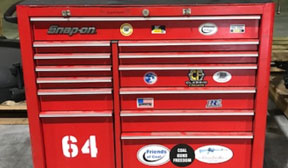 Create your user account and sign up to participate.